Hyundai Elantra: Steering Wheel / Horn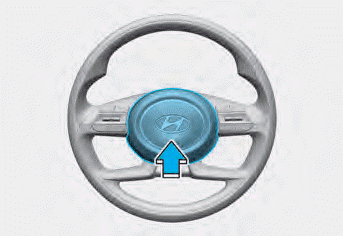 To sound the horn, press the area indicated by the horn symbol on your steering wheel (see illustration). The horn will operate only when this area is pressed.
NOTICE
Do not strike the horn severely to operate it, or hit it with your fist. Do not press on the horn with a sharp-pointed object.
When adjusting the steering wheel to a comfortable position, adjust the steering wheel so that it points toward your chest, not toward your face. Make sure you can see the instrument cluster warning lights and gauges...
Other information:
Wheel Replacement When replacing the metal wheels for any reason, make sure the new wheels are equivalent to the original factory units in diameter, rim width and offset. Tire Traction Tire traction can be reduced if you drive on worn tires, tires that are improperly inflated or on slippery road surfaces. Tires should be replaced when the tread depth is at least 2/32 inch (1.6 mm). To redu..
If the Engine Stalls While Driving Reduce your speed gradually, keeping a straight line. Move cautiously off the road to a safe place. Turn on your hazard warning flasher. Try to start the engine again. If your vehicle will not start, contact an authorized HYUNDAI dealer or seek other qualified assistance. If the Engine Stalls at a Crossroad or Crossing If the engine stalls at a cr..