Hyundai Elantra: Scheduled Maintenance Services / Normal Maintenance Schedule (Smartstream G2.0 Atkinson)

R: Replace or change.
I : Inspect and if necessary, adjust, correct, clean or replace.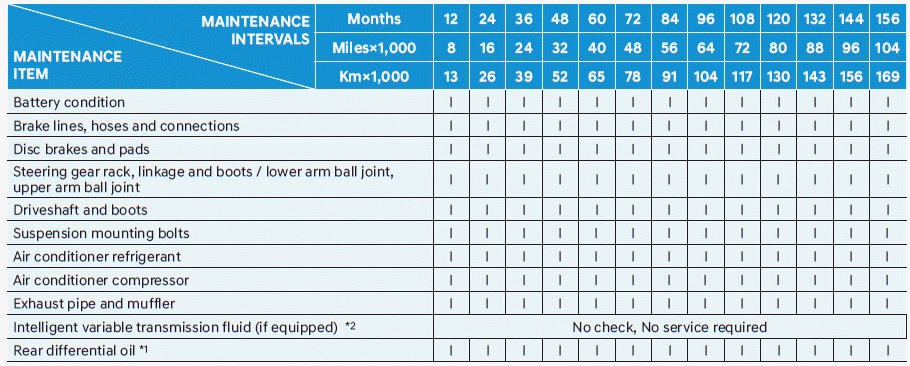 Follow Normal Maintenance Schedule if the vehicle is usually operated where none of the following conditions apply. If any of the following conditions apply, you must follow the Maintenance Under Severe Usage Conditions...
The following items must be serviced more frequently on cars mainly used under severe driving conditions. Refer to the chart below for the appropriate maintenance intervals...
Other information:
Function malfunction When Blind-Spot Safety system is not working properly, the 'Check Blind-Spot Safety system(s)' warning message will appear on the cluster, and the system will turn off automatically or the system will be limited. We recommend that the system be inspected by an authorized HYUNDAI dealer...
Operating conditions Smart Cruise Control will operate when the following conditions are satisfied. Basic function The gear is in D (Drive) The driver's door is closed EPB (Electronic Parking Brake) is not applied Your vehicle speed is within the operating speed range -- 5~110 mph (10~180 km/h): when there is no vehicle in front -- 0~110 mph (0~180 km/h): when there is a vehicl..