Hyundai Elantra: Door Locks / Rear Occupant Alert (ROA) System
This function helps prevent the driver from leaving a passenger in the rear seats.
If your vehicle is equipped with additional navigation, please refer to the infotainment system manual separately supplied.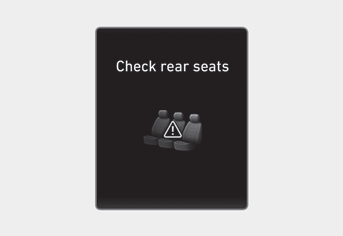 NOTICE
When the driver turns off the engine and opens the driver's door after opening and closing a rear door, a warning message "Check rear seats" appears.
WARNING
The rear seat passenger alarm system provides information to the driver to check the rear seats but it does not detect whether there is an object or passenger in the back seats. Please check the rear seats always when leaving the vehicle.
CAUTION
The door open and close history is initialized if the driver turns off the engine and lock the vehicle door. Even though the rear door is not opened again, the alarm may sound if there is the previous record. For example, if the driver does not lock the vehicle door and opens the door to get off after the alarm sounds, the alarm may go off.