Hyundai Elantra: Driving Safety / Forward Collision–Avoidance Assist (FCA) (sensor fusion)
Basic function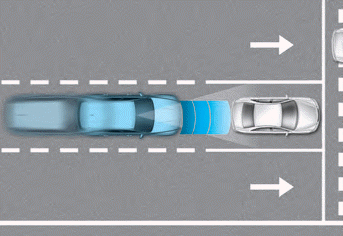 Forward Collision-Avoidance Assist is designed to help detect and monitor the vehicle ahead or help detect a pedestrian or cyclist in the roadway and warn the driver that a collision is imminent with a warning message and an audible warning, and if necessary, apply emergency braking.
Junction Turning function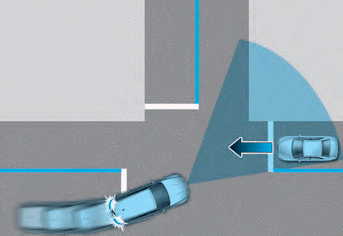 Junction Turning function will help avoid a collision with an oncoming vehicle in an adjacent lane when turning left at a crossroad with the turn signal on by applying emergency braking.
Detecting sensor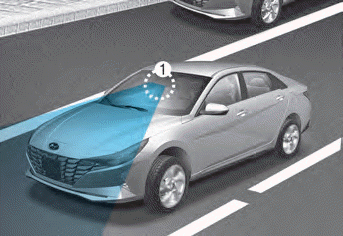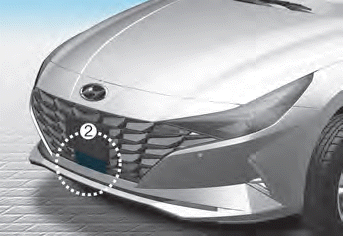 [1] : Front view camera, [2] : Front radar
Refer to the picture above for the detailed location of the detecting sensors.
CAUTION
Take the following precautions to maintain optimal performance of the detecting sensor:
Never disassemble the detecting sensor or sensor assembly, or apply any impact on it.
If the detecting sensors have been replaced or repaired, we recommend that you have your vehicle inspected by an authorized HYUNDAI dealer.
Never install any accessories or stickers on the front windshield, or tint the front windshield.
Pay extreme caution to keep the front view camera dry.
Never place any reflective objects (i.e. white paper, mirror) over the dashboard. Any light reflection may prevent the system from functioning properly.
Do not apply license plate frame or objects, such as a bumper sticker, film or a bumper guard, near the front radar cover.
Always keep the front radar and cover clean and free of dirt and debris. Use only a soft cloth to wash the vehicle. Do not spray pressurized water directly on the sensor or sensor cover.
If unnecessary force has been applied to the radar or around the radar, Forward Collision-Avoidance Assist may not properly operate even though a warning message does not appear on the cluster. We recommend that the vehicle be inspected by an authorized HYUNDAI dealer.
Use only genuine parts to repair or replace a damaged front radar cover. Do not apply paint to the front radar cover.
Setting Forward Safety With the engine on, select or deselect 'Driver Assistance → Forward Safety' from the Settings menu to set whether or not to use each function...
Other information:
This warning light illuminates if the ignition switch is set to the ON position and goes off in approximately 3 seconds if the system is operating normally. If the EPB malfunction indicator remains on, comes on while driving, or does not come on when the ignition switch is changed to the ON position, this indicates that the EPB may have malfunctioned...
Operating conditions If 'Active Assist' or 'Warning Only' is set from the Settings menu, Reverse Parking Collision-Avoidance Assist will be in the ready status when the following conditions are satisfied: -- The tailgate is closed -- The gear is shifted to R (Reverse) -- Vehicle speed is below 6 mph (10 km/h) -- System components such as the rear view camera and the rear ultrasoni..