Hyundai Elantra: Convenient Features / Storage compartment
WARNING
Never store cigarette lighters, propane cylinders, or other flammable/explosive materials in the vehicle. These items may catch fire and/or explode if the vehicle is exposed to hot temperatures for extended periods.
WARNING
ALWAYS keep the storage compartment covers closed securely while driving. Items inside your vehicle are moving as fast as the vehicle. If you have to stop or turn quickly, or if there is a crash, the items may fly out of the compartment and may cause an injury if they strike the driver or a passenger.
NOTICE
To avoid possible theft, do not leave valuables in the storage compartments.
Center console storage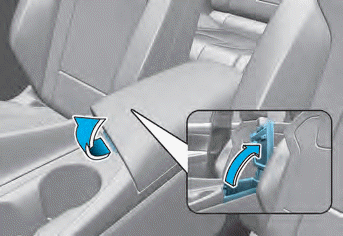 To open:
Grab and hold the latch on the armrest then lift the lid.
Glove box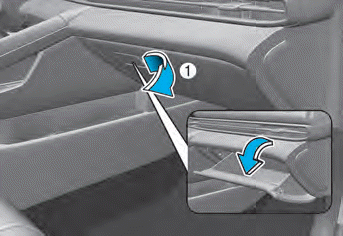 To open:
Pull the lever (1).
WARNING
ALWAYS close the glove box door after use.
An open glove box door can cause serious injury to the passenger in an accident, even if the passenger is wearing a seat belt.
Sunroof inside air recirculation When the sunroof is opened, outside (fresh) air will be automatically selected. At this time, if you press the air intake control button, recirculated air position will be selected but will change back to outside (fresh) air after 3 minutes...
Other information:
To use a sunvisor, pull it downward. To use a sunvisor for a side window, pull it downward, unsnap it from the bracket (1) and swing it to the side (2). To use the vanity mirror, pull down the sunvisor and slide the mirror cover (3). Adjust the sunvisor forward or backward (4, if equipped) as needed. Use the ticket holder (5) to hold tickets. Close the vanity mirror cover securely and retur..
If there is a problem with the brake pedal while driving, emergency braking is possible by pulling up and holding the EPB switch. Braking is possible only while you are holding the EPB switch. However, braking distance will be longer than normal. WARNING Do not operate the parking brake while the vehicle is moving except in an emergency situation. It could damage the brake system and lead..