Hyundai Elantra: Convenient Features / Storage compartment
WARNING
Never store cigarette lighters, propane cylinders, or other flammable/explosive materials in the vehicle. These items may catch fire and/or explode if the vehicle is exposed to hot temperatures for extended periods.
WARNING
ALWAYS keep the storage compartment covers closed securely while driving. Items inside your vehicle are moving as fast as the vehicle. If you have to stop or turn quickly, or if there is a crash, the items may fly out of the compartment and may cause an injury if they strike the driver or a passenger.
NOTICE
To avoid possible theft, do not leave valuables in the storage compartments.
Center console storage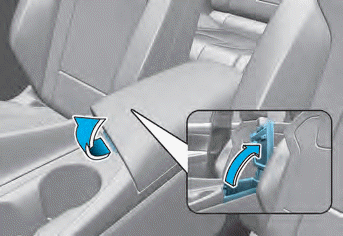 To open:
Grab and hold the latch on the armrest then lift the lid.
Glove box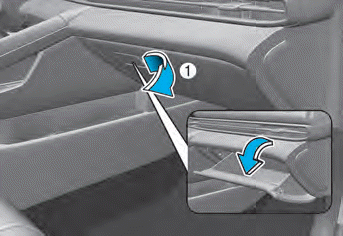 To open:
Pull the lever (1).
WARNING
ALWAYS close the glove box door after use.
An open glove box door can cause serious injury to the passenger in an accident, even if the passenger is wearing a seat belt.
Sunroof inside air recirculation When the sunroof is opened, outside (fresh) air will be automatically selected. At this time, if you press the air intake control button, recirculated air position will be selected but will change back to outside (fresh) air after 3 minutes...
Other information:
Function malfunction When Rear View Monitor is not working properly, or the screen flickers, or the camera image does not display normally, we recommend that the system be inspected by an authorized HYUNDAI dealer. Limitations of the function When the vehicle is stopped for a long time in winter or when the vehicle is parked in an indoor parking lot, the exhaust fumes may temporarily blur ..
The aluminum wheels are coated with a clear protective finish. NOTICE Do not use abrasive cleaner, polishing compound, solvent, or wire brushes on aluminum wheels. Clean the wheel when it has cooled. Use only a mild soap or neutral detergent, and rinse thoroughly with water. Also, clean the wheels after driving on salted roads. Do not wash the wheels with highspeed car wash brush..