Hyundai Elantra: Driving Convenience / Cruise Control (CC)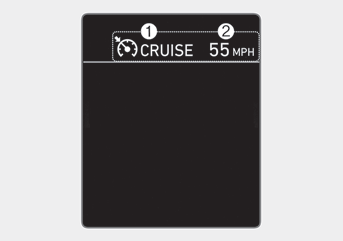 (1) Cruise indicator
(2) Set speed
Cruise Control will allow you to drive at speeds above 20 mph (30 km/h) without depressing the accelerator pedal.
To set speed 1. Accelerate to the desired speed, which must be more than 20 mph (30 km/h). 2. Press the Driving Assist button at the desired speed...
Other information:
Special Service Tools Tool (Number and Name) Illustration Application RKE Battery Checker(09954-2P100)Measuring the RKE battery voltage...
Description and operation DescriptionAmbient Temperature Sensor (ATS) is installed on the front-end module and senses the ambient temperature. This sensor is exposed to the ambient air temperature in front of the radiator. The ATS is a Negative Temperature Coefficient (NTC)-type sensor and its resistance is in inverse proportion to the temperature. Specifications Specification ..