Hyundai Elantra: Interior Features / Cup Holder
Front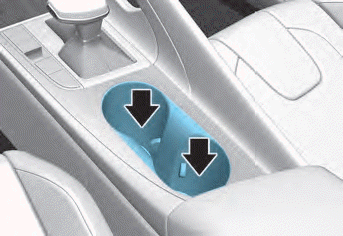 Rear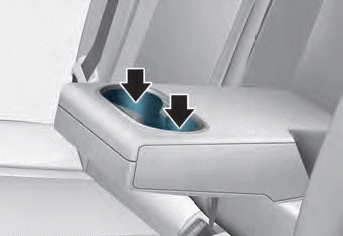 Cups or small beverages cups may be placed in the cup holders.
WARNING
Avoid abrupt starting and braking when the cup holder is in use to prevent spilling your drink. If hot liquid spills, you could be burned. Such a burn to the driver could cause loss of vehicle control resulting in an accident.
Do not place uncovered or unsecured cups, bottles, cans, etc., in the cup holder containing hot liquid while the vehicle is in motion. Injuries may result in the event of a sudden stop or collision.
Only use soft cups in the cup holders. Hard objects can injure you in an accident.
WARNING
Keep cans or bottles out of direct sun light and do not put them in a hot vehicle. It may explode.
NOTICE
Keep your drinks sealed while driving to prevent spilling your drink. If liquid spills, it may get into the vehicle's electrical/electronic system and damage electrical/electronic parts.
When cleaning spilled liquids do not use hot air to blow out or dry the cup holder. This may damage the interior.
To use a sunvisor, pull it downward. To use a sunvisor for a side window, pull it downward, unsnap it from the bracket (1) and swing it to the side (2)...
Other information:
Your vehicle may be equipped with a Gentex Automatic-Dimming Mirror with an Integrated HomeLink® Wireless Control System. During nighttime driving, this feature will automatically detect and help reduce rearview mirror glare. The HomeLink® Universal Transceiver allows you to activate your garage door(s), electric gate, home lighting, etc...
1. Inside door handle 2. Side view mirror control switch 3. Central door lock switch 4. Power window switches 5. Power window lock button 6. Steering wheel tilt/telescopic lever 7. Steering wheel 8. Instrument panel illumination control switch 9...