Hyundai Elantra: Maintenance / Engine Oil
Checking the Engine Oil Level
1. Follow all of the oil manufacturer's precautions.
2. Be sure the vehicle is on the level ground in P (Park) with the parking brake set. If possible, block the wheels.
3. Turn the engine on and allow the engine to reach normal operating temperature.
4. Turn the engine off and wait about five minutes for the oil to return to the oil pan.
5. Pull the dipstick out, wipe it clean, and re-insert it fully.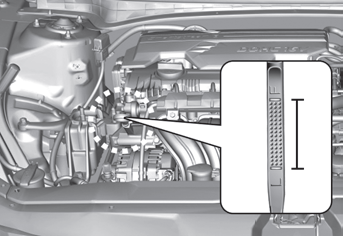 Smartstream G2.0
6. Pull the dipstick out again and check the level. The level should be between F and L.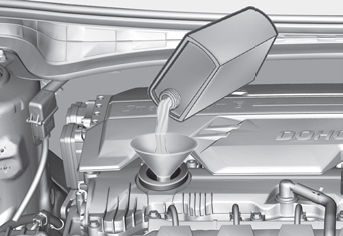 Smartstream G2.0
7. If it is near or at L, add enough oil to bring the level to F.
Use only the specified engine oil.
NOTICE
To prevent damage to your engine:
Do not overfill with engine oil. Add oil in small quantities and recheck level to ensure engine is not overfilled.
Do not spill engine oil when adding or changing engine oil. Use a funnel to help prevent oil from being spilled on engine components. Wipe off spilled oil immediately.
Checking the Engine Oil and Filter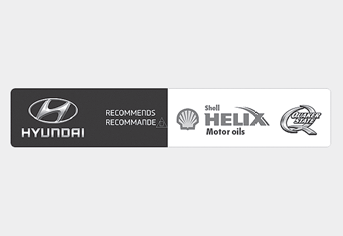 Have engine oil and filter changed by an authorized HYUNDAI dealer according to the Maintenance Schedule at the beginning of this chapter.
Engine Oil and Filter The engine oil and filter should be changed at the intervals specified in the maintenance schedule. If the vehicle is being driven in severe conditions, more frequent oil and filter changes are required...
The high-pressure cooling system has a reservoir filled with year-round antifreeze coolant. The reservoir is filled at the factory. Check the antifreeze protection and coolant level at least once a year, at the beginning of the winter season and before traveling to a colder climate...
Other information:
To obtain the maximum benefit from your ABS in an emergency situation, do not attempt to modulate your brake pressure and do not try to pump your brakes. Depress your brake pedal as hard as possible. When you apply your brakes under conditions which may lock the wheels, you may hear sounds from the brakes, or feel a corresponding sensation in the brake pedal...
WARNING Over-inflation or under-inflation can reduce tire life, adversely affect vehicle handling, and lead to sudden tire failure that may cause loss of vehicle control resulting in an accident. Each tire, including the spare (if provided), should be checked monthly when cold and inflated to the inflation pressure recommended by the vehicle manufacturer on the vehicle placard or tire inf..