Hyundai Elantra: Maintenance / Fuses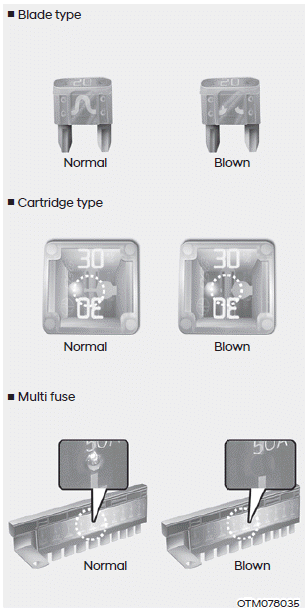 A vehicle's electrical system is protected from electrical overload damage by fuses.
This vehicle has 2 (or 3) fuse panels, one located in the driver's side panel bolster, the other in the engine compartment near the battery.
If any of your vehicle's lights, accessories, or controls do not work, check the appropriate circuit fuse. If a fuse has blown, the element inside the fuse will be melted or broken.
If the electrical system does not work, first check the driver's side fuse panel. Before replacing a blown fuse, turn the engine and all switches off, and then disconnect the negative battery cable. Always replace a blown fuse with one of the same rating.
If the replacement fuse blows, this indicates an electrical problem. Avoid using the system involved and immediately consult an authorized HYUNDAI dealer.
WARNING
NEVER replace a fuse with anything but another fuse of the same rating.
A higher capacity fuse could cause damage and possibly cause a fire.
Do not install a wire or aluminum foil instead of the proper fuse - even as a temporary repair. It may cause extensive wiring damage and possibly a fire.
NOTICE
Do not use a screwdriver or any other metal object to remove fuses because it may cause a short circuit and damage the system.
The aspect ratio is lower than 50 on low aspect ratio tires. Because low aspect ratio tires are optimized for handling and braking, their sidewall is a little stiffer than a standard tire...
1. Turn the vehicle off. 2. Turn all other switches OFF. 3. Open the fuse panel cover. 4. Refer to the label on the inside of the fuse panel cover to locate the suspected fuse location...
Other information:
Components 1. Rear torsion beam axle2. Rear torsion beam chassis bracket3. Rear axle..
Description of ESPESP recognizes critical driving conditions, such as panic reactions in dangerous situations, and stabilizes the vehicle by wheel-individual braking and engine control intervention.ESP adds a further function known as Active Yaw Control (AYC) to the ABS, TCS, EBD and ESP functions. Whereas the ABS/TCS function controls wheel slip during braking and acceleration and, thus, mainly i..