Hyundai Elantra: Emergency situations / Hazard Warning Flasher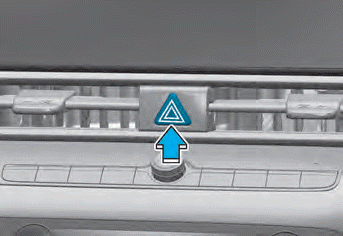 The hazard warning flasher serves as a warning to other drivers to exercise extreme caution when approaching, overtaking, or passing your vehicle.
It should be used whenever emergency repairs are being made or when the vehicle is stopped near the edge of a roadway.
To turn the hazard warning flasher on or off, press the hazard warning flasher button. The button is located in the center fascia panel. Both the left and right turn signal lights will flash simultaneously.
The hazard warning flasher operates whether your vehicle is running or not.
The turn signals do not work when the hazard flasher is on.
If the Engine Stalls While Driving Reduce your speed gradually, keeping a straight line. Move cautiously off the road to a safe place. Turn on your hazard warning flasher...
Other information:
Troubleshooting Symptom Expected cause Countermeasure Leaning phenomenon of vehicleDefect on front suspension and steering.Adjust or replaceWheel bearing burningReplaceVibrationOver abrasion, separation, damaged or bended on drive shaftReplaceWheel bearing separationReplaceshimmyInappropriated wheel balance..
Description and operation DescriptionInstalled on the delivery pipe, the Rail Pressure Sensor (RPS) measures the instantaneous fuel pressure in the delivery pipe. The sensing element (Semiconductor element) built in the sensor converts the pressure to voltage signal.By using this signal, the ECM can control correct injection amount and timing and adjust the fuel pressure with the fuel pressure ..