Hyundai Elantra: Engine Electrical System / Specifications
Ignition Coil
| | |
| --- | --- |
| Item | Specification |
| Primary Coil Resistance (Ω) | 0.75 ± 15% [20°C (68°F)] |
| Secondary Coil Resistance (kΩ) | 5.9 ± 15% [20°C (68°F)] |
Spark Plug
Item

Specification

Type

SILZKR8J8GS

Gap

0.7 - 0.8 mm
(0.0275 - 0.0314 in.)

Alternator
Item

Specification

Rated voltage

13.5V, 130A

Speed in use

1,000 - 18,000 rpm

Voltage regulator

IC Regulator built-in type

Regulator Setting Voltage

External mode

10.6 - 16 ± 0.3V

Internal mode

14.55 ± 0.3V

Temperature Gradient

External mode

0 ± 2 mV / °C

Internal mode

-3.5 ± 2mV / °C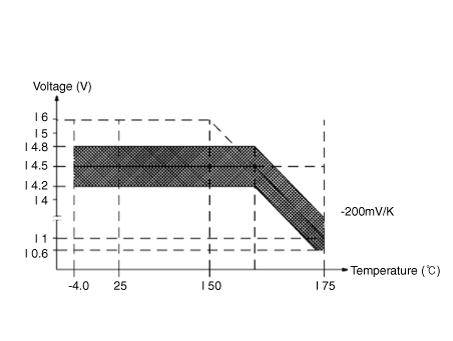 Battery
▶CMF68L-DIN
| | |
| --- | --- |
| Item | Specification |
| Model type | CMF68L-DIN |
| Capacity [20HR/5HR] (AH) | 68 / 54 |
| Cold Cranking Amperage (A) | 760 (SAE / EN) |
| Reserve Capacity (Min) | 110 |
| | |
| --- | --- |
| • | Model type description |
| | |
| --- | --- |
| • | Cold Cranking Ampere (CCA) : Cold Cranking Amps is a rating used in the battery industry to define a battery's ability to start an engine in cold temperatures. |
| | |
| --- | --- |
| – | The rating is the number of amps a new, fully charged battery can deliver at -18°C (-0.4°F) for 30 seconds, while maintaining a voltage of at least 7.2 volts for a 12 volt battery. |
| | |
| --- | --- |
| – | The higher the CCA rating, the greater the starting power of the battery. |
| | |
| --- | --- |
| • | RESERVE CAPACITY (RC) : Reserve Capacity is a battery industry rating, defining a battery's ability to power a vehicle with an inoperative alternator or fan belt. |
| | |
| --- | --- |
| – | The rating is the number of minutes a battery at 26.7°C (80°F) can be discharged at 25 amps and maintain a voltage of 10.5 volts for a 12 volt battery. |
| | |
| --- | --- |
| – | The higher the reserve rating, the longer your vehicle can operate should your alternator or fan belt fail. |
| | |
| --- | --- |
| Item | Speccification |
| Rated voltage (V) | 12 - 14 |
| Dark current (uA) | 300 |
| Pin | 2 (B+, LIN) |
Starter
Item

Specification

Rated voltage

12V, 0.9kW

The number of pinion teeth

10

Performance
[No-load, 11V]

Ampere

83.6A

Speed

Min. 3500rpm

Special Service Tools Tool Name / Number Illustration Description Alternator pulley remover wrenchh09373-27000Removal and installation of alternator pulley ..
Other information:
The heating and cooling system can be controlled manually by pushing buttons other than the AUTO button. In this case, the system works sequentially according to the order of buttons selected. When pressing any button except the AUTO button while using automatic operation, the functions not selected will be controlled automatically. 1. Start the engine. 2. Set the mode to the desired posit..
Schematic Diagram1. Air cleaner2. Delivery pipe & injector3. Engine4. Purge control solenoid valve (PCSV)5. Fuel tank air filter6. Fuel pump7. Fuel filler neck8. Fuel filler cap9. Fuel tankCanisterCanister is filled with charcoal and absorbs evaporated vapor in fuel tank. The gathered fuel vapor in canister is drawn into the intake manifold by the ECM/PCM when appropriate conditions are set.Pu..