Hyundai Elantra: Infotainment System / Steering wheel audio control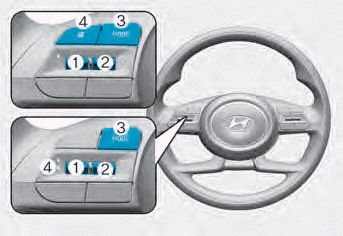 The steering wheel audio control switches are installed for your convenience.
NOTICE
Do not operate audio remote control buttons simultaneously.
VOLUME (VOL + / VOL -) (1)
Move the VOLUME toggle switch up to increase volume.
Move the VOLUME toggle switch down to decrease volume.
SEEK/PRESET (˄/˅ ) (2)
• RADIO mode
It will function as the AUTO SEEK select switch. It will SEEK until you release the switch.
• MEDIA mode
It will function as the FF/REW switch. If the SEEK/PRESET toggle switch is moved up or down, it will function in the following modes.
• RADIO mode
It will function as the PRESET STATION UP/DOWN switch.
• MEDIA mode
It will function as the TRACK UP/ DOWN switch.
MODE (

) (3)
Press the MODE button to select Radio.
MUTE (

) (4)
Information
Detailed information for audio control buttons are described in the following pages in this chapter.
Infotainment system
If your vehicle is equipped with additional navigation, please refer to the infotainment system manual separately supplied.
Shark fin antenna (1) The shark fin antenna receives data transmitted from base stations and satelliltes (for example: GPS, Sirus XM, LTE) and also transmits to base stations (for example: LTE)...
A wide range of infotainment functions can be commanded with voice recognition...
Other information:
A vehicle's electrical system is protected from electrical overload damage by fuses. This vehicle has 2 (or 3) fuse panels, one located in the driver's side panel bolster, the other in the engine compartment near the battery. If any of your vehicle's lights, accessories, or controls do not work, check the appropriate circuit fuse. If a fuse has blown, the element inside the fuse wi..
Before Entering the Vehicle Be sure all windows, outside mirror(s), and outside lights are clean and unobstructed. Remove frost, snow, or ice. Visually check the tires for uneven wear and damage. Check under the vehicle for any sign of leaks. Be sure there are no obstacles behind you if you intend to back up. Before Starting Make sure the hood, the trunk, and the doors are sec..