Hyundai Elantra: Infotainment System / Steering wheel audio control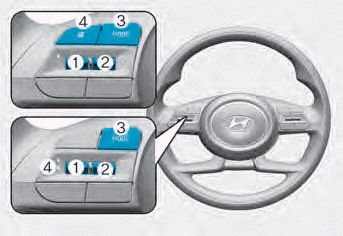 The steering wheel audio control switches are installed for your convenience.
NOTICE
Do not operate audio remote control buttons simultaneously.
VOLUME (VOL + / VOL -) (1)
Move the VOLUME toggle switch up to increase volume.
Move the VOLUME toggle switch down to decrease volume.
SEEK/PRESET (˄/˅ ) (2)
• RADIO mode
It will function as the AUTO SEEK select switch. It will SEEK until you release the switch.
• MEDIA mode
It will function as the FF/REW switch. If the SEEK/PRESET toggle switch is moved up or down, it will function in the following modes.
• RADIO mode
It will function as the PRESET STATION UP/DOWN switch.
• MEDIA mode
It will function as the TRACK UP/ DOWN switch.
MODE (

) (3)
Press the MODE button to select Radio.
MUTE (

) (4)
Information
Detailed information for audio control buttons are described in the following pages in this chapter.
Infotainment system
If your vehicle is equipped with additional navigation, please refer to the infotainment system manual separately supplied.
Shark fin antenna (1) The shark fin antenna receives data transmitted from base stations and satelliltes (for example: GPS, Sirus XM, LTE) and also transmits to base stations (for example: LTE)...
A wide range of infotainment functions can be commanded with voice recognition...
Other information:
Description and operation Description1.In order to make normal activation of airbag system, SRSCM detects DTC(s) for the Occupant Classification System (OCS). If the seat is occupied, OCS detects passenger presences status and send signal to SRSCM via CAN.2.SRSCM recognizes the signal as 2(two) different classifications; that is, 1(Empty or small occupant with child restraint system), 2(Occupie..
This gauge indicates the current outside air temperature by 1°F (1°C). -- Temperature range: -40°F ~ 140°F (40°C ~ 60°C) Note that the temperature indicated on the LCD display may not change as quickly as the outside temperature (there may be a slight delay before the temperature changes.) You can change the temperature unit from °F to °C or °C to °F in the User Settings mode in..