Hyundai Elantra: Infotainment System / Antenna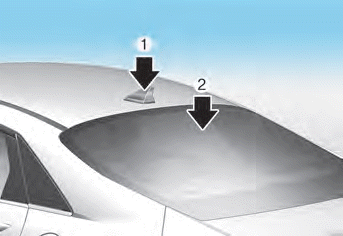 Shark fin antenna (1)
The shark fin antenna receives data transmitted from base stations and satelliltes (for example: GPS, Sirus XM, LTE) and also transmits to base stations (for example: LTE).
Glass antenna (2)
Your vehicle uses a glass antenna to receive both AM and FM signals.
WARNING
Do not clean the inside of the rear window glass with a cleaner or scraper to remove foreign deposits as this may cause damage to the antenna elements.
To prevent damage to the rear glass antenna, never use sharp instruments or window cleaner containing abrasives to clean the window. Clean the inside surface of the rear glass window with a piece of soft cloth.
Avoid adding metallic coatings such as Ni, Cd, etc. These can degrade the receiving AM and FM broadcast signals.
When putting a sticker on the inside surface of the rear window, be careful not to damage the rear glass antenna.
Do not put sharp instruments nearby the rear glass antenna.
Tinted rear window may affect the proper functioning of the antenna.
You can use an USB port to plug in an USB. Information When using a portable audio device connected to the power outlet, noise may occur during playback...
The steering wheel audio control switches are installed for your convenience. NOTICE Do not operate audio remote control buttons simultaneously. VOLUME (VOL + / VOL -) (1) Move the VOLUME toggle switch up to increase volume...
Other information:
Operating conditions Smart Cruise Control will operate when the following conditions are satisfied. Basic function The gear is in D (Drive) The driver's door is closed EPB (Electronic Parking Brake) is not applied Your vehicle speed is within the operating speed range -- 5~110 mph (10~180 km/h): when there is no vehicle in front -- 0~110 mph (0~180 km/h): when there is a vehicl..
Opening the trunk 1. Make sure the shift lever is in P (Park, for automatic transmission/Intelligent variable transmission) or first gear or R (Reverse, for manual transmission) and set the parking brake. 2. Then do one of the following: Hold down the trunk unlock button located on your remote key or smart key for more than 1 second. Additionally, for vehicles equipped with smart key..