Hyundai Elantra: Maintenance / Washer Fluid
Checking the Washer Fluid Level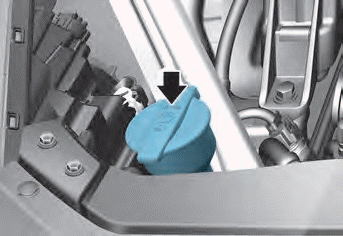 Check the fluid level in the washer fluid reservoir and add fluid if necessary. Plain water may be used if washer fluid is not available. However, use washer solvent with antifreeze characteristics in cold climates to prevent freezing.
WARNING
To prevent serious injury or death, take the following safety precautions when using washer fluid:
Do not use engine coolant or antifreeze in the washer fluid reservoir. Engine coolant can severely obscure visibility when sprayed on the windshield and may cause loss of vehicle control resulting in an accident or damage to paint and body trim.
Do not allow sparks or flames to contact the washer fluid or the washer fluid reservoir. Washer fluid may contain alcohol and can be flammable.
Do not drink washer fluid and avoid contact with skin. Washer fluid is harmful to humans and animals.
Keep washer fluid away from children and animals.
Checking the brake fluid level Check the fluid level in the reservoir periodically. The fluid level should be between MAX and MIN marks on the side of the reservoir...
Checking the parking brake Check the stroke of the parking brake by counting the number of "clicks'' heard while fully applying it from the released position...
Other information:
Driver's and passenger's front air bags Your vehicle is equipped with an Advanced Supplemental Restraint System (SRS) and lap/shoulder belts at both the driver and passenger seating positions. The SRS consists of air bags which are located in the center of the steering wheel, in the driver's side lower crash pad below the steering wheel column and the passenger's side front panel ..
Both the driver's and passenger's front seat are equipped with adjustable head restraints for the safety and comfort. Adjusting the height up and down To raise the head restraint: 1. Pull it up to the desired position (1). To lower the head restraint: 1. Push and hold the release button (2) on the head restraint support. 2. Lower the head restraint to the desired position (3). Forward an..