Hyundai Elantra: Automatic Climate Control System / Automatic heating and air conditioning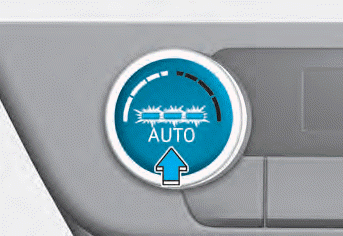 1. Press the AUTO button
The modes, fan speeds, air intake and air-conditioning will be controlled automatically according to the temperature setting you select.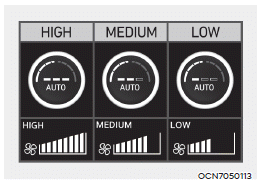 You can control the blower strength in three stages by pushing the AUTO button during automatic operation.
-- HIGH : Provide rapid air conditioning and heating with strong blower
-- MEDIUM : Provide air conditioning and heating with medium strength blower
-- LOW : It is suitable for drivers who prefer to soft blower.
When you select the temperature to HI or LO in AUTO mode, the wind strength is set to 'HIGH'.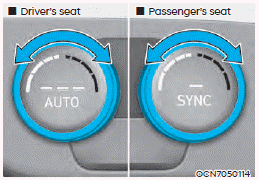 2. Turn the temperature control knob to set the desired temperature. If the temperature is set to the lowest setting (Lo), the air conditioning system will operate continuously.
To turn the automatic operation off, select any button of the following:
-- Mode selection button
-- Front windshield defroster button (Press the button one more time to deselect the front windshield defroster function. The 'AUTO' sign will illuminate on the information screen once again.)
-- Fan speed control toggle switch The selected function will be controlled manually while other functions operate automatically.
For your convenience and overall system efficiency, use the AUTO button and set the temperature to 22°C (72°F).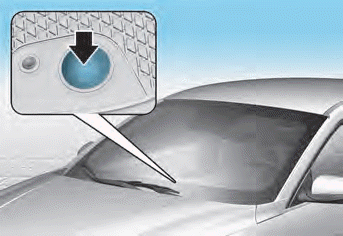 Information
Never place anything near the sensor to ensure better control of the heating and cooling system.