Hyundai Elantra: Gauges and Meters / Odometer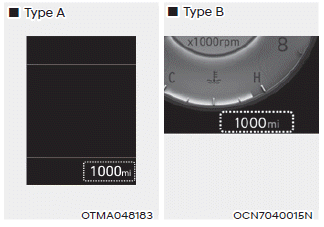 The odometer indicates the total distance that the vehicle has been driven and should be used to determine when periodic maintenance should be performed.
This gauge indicates the current outside air temperature by 1°F (1°C). -- Temperature range: -40°F ~ 140°F (40°C ~ 60°C) Note that the temperature indicated on the LCD display may not change as quickly as the outside temperature (there may be a slight delay before the temperature changes...
The range is the estimated distance the vehicle can be driven with the remaining fuel. If the estimated distance is below 1 mi. (1 km), the trip computer will display "----" as range...
Other information:
This indicator light blinks: When you operate the turn signal indicator stalk. If any of the following occur, there may be a malfunction with the turn signal system. -- The turn signal indicator light illuminates but does not blink -- The turn signal indicator light blinks rapidly -- The turn signal indicator light does not illuminate at all If any of these conditions occur, have your veh..
The child safety lock is provided to help prevent children seated in the rear from accidentally opening the rear doors. The rear door safety locks should be used whenever children are in the vehicle. The child safety lock is located on the edge of each rear door. When the child safety lock is in the lock position, the rear door will not open if the inner door handle is pulled. To lock the..