Hyundai Elantra: LCD Display / User settings mode
In this mode, you can change the settings of the instrument cluster, doors, lamps, etc.
1. Driver Assistance
2. Door
3. Lights
4. Sound
5. Convenience
6. Service interval
7. Theme selection
8. Other
9. Language
10. Reset
Shift to P to edit settings / Engage parking brake to edit settings
This warning message illuminates if you try to select an item from the User Settings mode while driving.
• Intelligent variable transmission For your safety, change the User Settings after parking the vehicle, applying the parking brake and moving the shift level to P(Park).
Quick guide (Help)
This mode provides quick guides for the systems in the User Settings mode. Select an item, press and hold the OK button.
Information
When the infotainment system is applied, only the User's Setting mode on the infotainment system is supported but the User's Setting mode on the instrument cluster is not supported.
1. Driver Assistance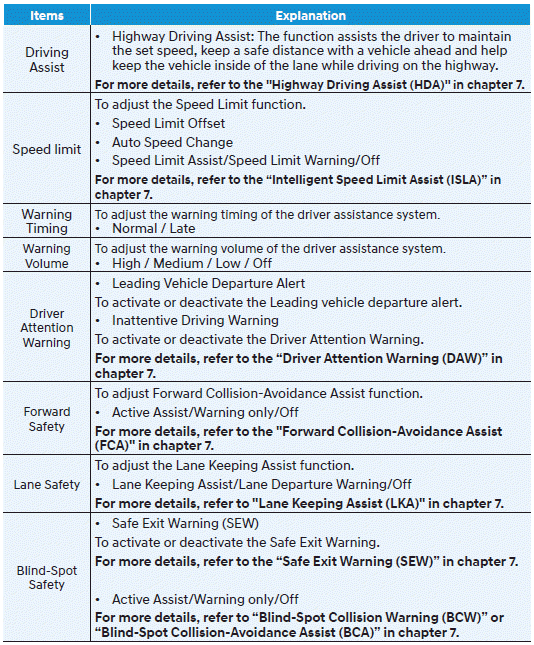 2. Door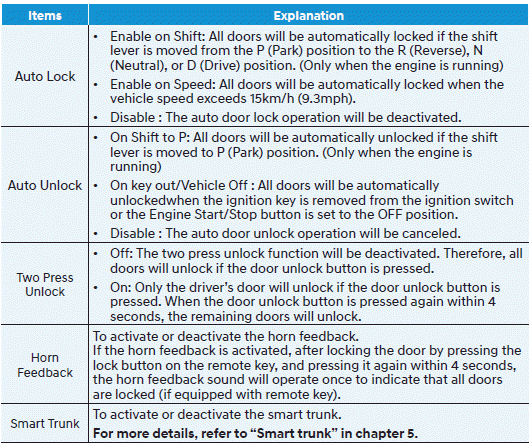 3. Lights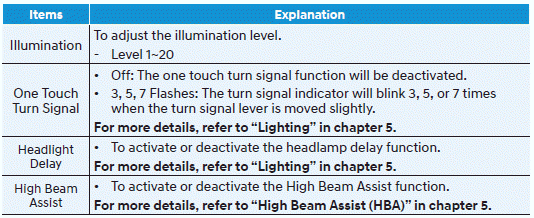 4. sound

5. Convenience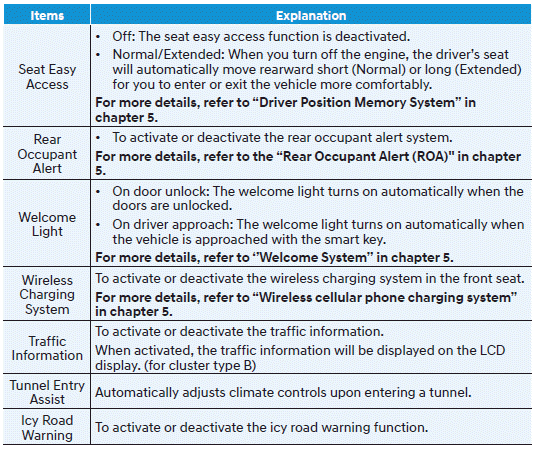 6. Service interval

To use the service interval menu, consult an authorized HYUNDAI dealer.
If the service interval is activated and the time and distance is adjusted, messages are displayed in the following situations each time the vehicle is turned on.
-- Service in
: Displayed to inform the driver the remaining mileage and days to service.
-- Service required
: Displayed when the mileage and days to service has been reached or passed.
Information
If any of the following conditions occur, the mileage and number of days to service may be incorrect.
-- The battery cable is disconnected.
-- The fuse switch is turned off.
-- The battery is discharged.
7. Theme selection
To select the style of instrument cluster graphic style and setting.
• Theme A / Theme B / Theme C
8. Other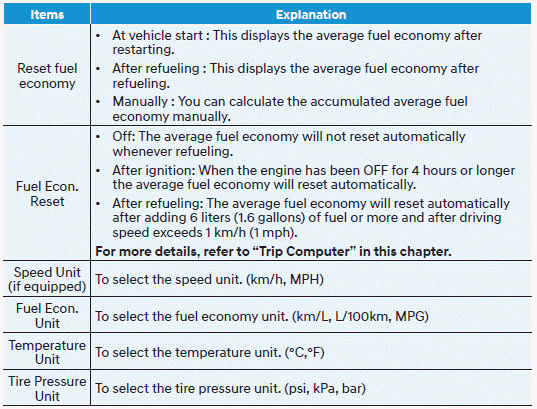 9. Language

10. Reset

The Utility group displays information related to vehicle driving parameters including fuel economy and trip distance information. Utility Items The utility items appear as well in utility view mode, driving assist view mode and turn by turn view mode...
Other information:
Check the condition and connections of all cooling system hoses and heater hoses. Replace any swollen or deteriorated hoses. The coolant level should be filled between the F and the L marks on the side of the coolant reservoir when the engine is cool. If the coolant level is low, add enough distilled (deionized) water to bring the level to the F mark, but do not overfill. If frequent add..
Applying the parking brake To apply the EPB (Electronic Parking Brake): 1. Depress the brake pedal. 2. Pull up the EPB switch. Make sure the parking brake warning light comes on. WARNING To reduce the risk of SERIOUS INJURY or DEATH, do not operate the EPB while the vehicle is moving except in an emergency situation. It could damage the brake system and lead to an accident...