Hyundai Elantra: Maintenance / Battery
WARNING
To prevent SERIOUS INJURY or DEATH to you or bystanders, always follow these precautions when working near or handling the battery: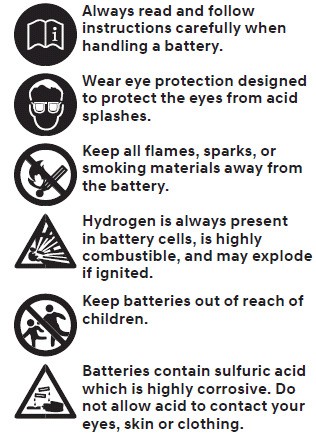 If acid gets into your eyes, flush your eyes with clean water for at least 15 minutes and get immediate medical attention. If acid gets on your skin, thoroughly wash the area. If you feel pain or a burning sensation, get medical attention immediately.
When lifting a plastic-cased battery, excessive pressure on the case may cause battery acid to leak. Lift with a battery carrier or with your hands on opposite corners.
Do not attempt to jump start your vehicle if your battery is frozen.
NEVER attempt to recharge the battery when the vehicle's battery cables are connected to the battery.
The electrical ignition system works with high voltage. NEVER touch these components with the engine running or when the ignition switch is in the ON position.
Do not allow the (+) and (-) jumper cables to touch. It may cause sparks.
The battery may rupture or explode when you jump start with a low or frozen battery.
Leaked battery electrolyte due to repeated driving on sharp curves (e.g. on circuits) may cause safety problem. Avoid repeated driving on sharp curves.
NOTICE
When you do not use the vehicle for a long time in a low temperature area, disconnect the battery and keep it indoors.
Always charge the battery fully to prevent battery case damage in low temperature areas.
NOTICE
If you connect unauthorized electronic devices to the battery, the battery may be discharged. Never use unauthorized devices.
Blade Inspection Contamination of either the windshield or the wiper blades with foreign matter can reduce the effectiveness of the windshield wiper functionality...
Keep the battery securely mounted. Keep the battery top clean and dry. Keep the terminals and connections clean, tight, and coated with petroleum jelly or terminal grease...
Other information:
Check your tires, including the spare tire, once a month or more. How to check Use a good quality tire pressure gauge to check tire pressure. You can not tell if your tires are properly inflated simply by looking at them. Radial tires may look properly inflated when they are underinflated...
ESC ON condition When the ignition switch is in the ON position, the ESC and the ESC OFF indicator lights illuminate for approximately three seconds. After both lights go off, the ESC is enabled. When operating When the ESC is in operation, the ESC indicator light blinks: When you apply your brakes under conditions which may lock the wheels, you may hear sounds from the brakes, or fe..