Hyundai Elantra: Timing System / Timing Chain
Components and components location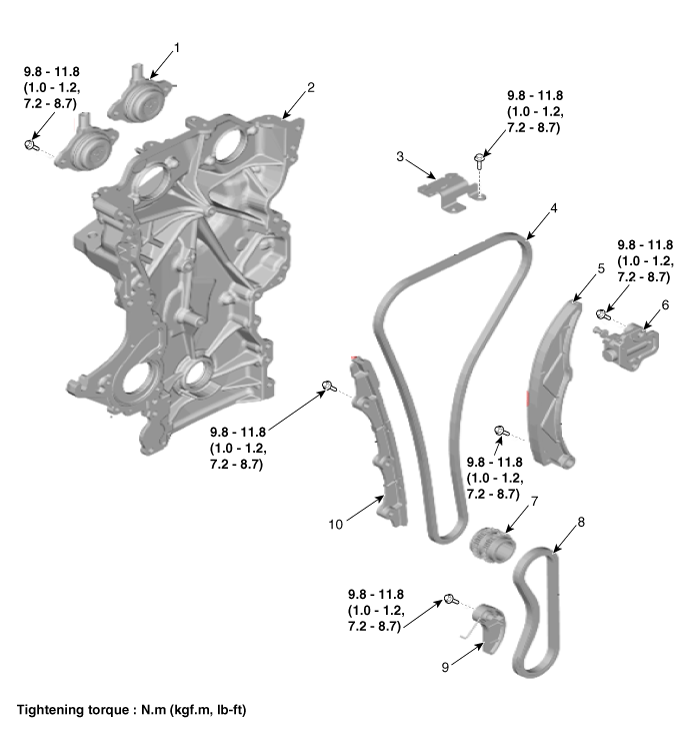 1. Variable force solenoid valves
2. Timing chain cover
3. Cam to cam guide
4. Timing chain
5. Timing chain tensioner arm

6. Timing chain tensioner
7. Crankshaft sprocket
8. Oil pump chain
9. Oil pump chain tensioner
10. Timing chain guide

Repair procedures
| | |
| --- | --- |
| 1. | Disconnect the battery negative terminal. |
| | |
| --- | --- |
| 2. | Turn the crankshaft damper pulley clockwise, and align its groove with the timing mark of the timing chain cover. |
3.

Remove the timing chain cover.

(Refer to Timing System - "Timing Chain Cover")
| | |
| --- | --- |
| 4. | Remove the cam to cam guide (A). |
5.

Remove the timing chain tensioner (A).

| | |
| --- | --- |
| • | Before the removal of timing chain tensioner, compress tensioner piston then remove the tensioner after fixing with fixing pin (A). |
| | |
| --- | --- |
| 6. | Remove the timing chain tensioner arm (A). |
| | |
| --- | --- |
| 7. | Remove the timing chain (A). |
| | |
| --- | --- |
| 8. | Remove the timing chain guide (A). |
9.

Remove the oil pump chain.

(Refer to Lubrication System - "Oil Pump")
| | |
| --- | --- |
| 10. | Remove the crankshaft sprocket (A). |
Sprockets, Hydraulic Tensioner, Chain Guide, Chain Tensioner Arm
| | |
| --- | --- |
| 1. | Check the camshaft sprocket, crankshaft sprocket teeth for abnormal wear, cracks or damage. Replace if necessary. |
| | |
| --- | --- |
| 2. | Check a contact surface of the chain tensioner arm and guide for abnormal wear, cracks or damage. Replace if necessary. |
| | |
| --- | --- |
| 3. | Check the hydraulic tensioner for its piston stroke and ratchet operation. Replace if necessary. |
| | |
| --- | --- |
| 1. | Install the crankshaft sprocket (A). |
| | |
| --- | --- |
| 2. | Place the crankshaft key at the left 180°. |
3.

Install the oil pump chain.

(Refer to Lubrication System - "Oil Pump")
4.

Install the timing chain (A).

•

When installing the timing chain, be sure that the timing mark (A) of each sprocket is matched with the timing mark (B) (color link) of the timing chain.

[Intake CVVT Timing Mark]

[Exhaust CVVT Timing Mark]

[Crankshaft Sprocket Timing Mark]

| | |
| --- | --- |
| • | Confirm that the TDC marks on the intake and exhaust CVVT sprockets are aligned with the top surface of cylinder head. |
5.

Install the timing chain guide (A).

Tightening torque :

9.8 - 11.8 N.m (1.0 - 1.2 kgf.m, 7.2 - 8.7 lb-ft)
6.

Install the timing chain tensioner arm (A).

Tightening torque :

9.8 - 11.8 N.m (1.0 - 1.2 kgf.m, 7.2 - 8.7 lb-ft)
7.

Install the timing chain tensioner (A).

Tightening torque :

9.8 - 11.8 N.m (1.0 - 1.2 kgf.m, 7.2 - 8.7 lb-ft)

| | |
| --- | --- |
| • | Install the timing chain tensioner and remove the pin (A). |
8.

Install the cam to cam guide (A).

Tightening torque :

9.8 - 11.8 N.m (1.0 - 1.2 kgf.m, 7.2 - 8.7 lb-ft)
| | |
| --- | --- |
| 9. | After rotating crankshaft 2 revolutions in regular direction (clockwise viewed from front), confirm that the TDC marks on the intake and exhaust CVVT sprockets are aligned with the top surface of cylinder head. |
10.

Install the timing chain cover.

(Refer to Timing System - "Timing Chain Cover")
| | |
| --- | --- |
| 11. | Install the other parts in the reverse order of removal. |
Repair procedures Removal • Use fender covers to avoid damaging painted surfaces. • To avoid damage, unplug the wiring connectors carefully while holding the connector portion...
Other information:
This warning light illuminates: • When you set the Engine Start/Stop button to the ON position. -- The LED headlight warning light illuminates for approximately 3 seconds and then goes off. • Whenever there is a malfunction with the LED headlight. If this occurs, we recommend that you have your vehicle inspected by an authorized HYUNDAI dealer. NOTICE Continuous driving with the LED He..
Special Service Tools Tools (Number and name) Illustration Use Engine support fixture (Beam)09200-3N000Removal and installation of the transaxle.Used with the supporter (09200-2S100).Engine support fixture (Rear)09200-L1100Removal and installation of the transaxle.with the beam (SST No. : 092..