Hyundai Elantra: Exterior Lights / Turn signals and lane change signals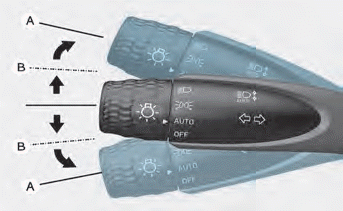 To signal a turn, push down on the lever for a left turn or up for a right turn in position (A). To signal a lane change, move the turn signal lever slightly and hold it in position (B). The lever will return to the OFF position when released or when the turn is completed.
If an indicator stays on and does not flash or if it flashes abnormally, one of the turn signal bulbs may be burned out and will require replacement.
One touch turn signal function
To activate a one-touch turn signal function, move the turn signal lever slightly and then release it. The lane change signals will blink 3, 5 or 7 times.
You can activate or deactivate the One Touch Turn Signal function or choose the number of blinks (3, 5, or 7) from the User Settings Mode on the LCD display.
For more details, refer to "LCD Display Modes" in chapter 4. If your vehicle is equipped with additional navigation, please refer to the infotainment system manual separately supplied.
To turn on the high beam headlamp, push the lever away from you. The lever will return to its original position. The high beam indicator will light when the headlamp high beams are switched on...
The purpose of this feature is to help prevent the battery from being discharged. The system automatically turns off the parking lamp when the driver turns the vehicle off and opens the driver-side door...
Other information:
Navigation-based Smart Cruise Control may not operate normally under the following circumstances: The navigation is not working properly Speed limit and road information in the navigation is not updated The map information and the actual road is different because of real-time GPS data or map information error The navigation searches for a route while driving GPS signals are blocked..
All Season Tires HYUNDAI specifies all season tires on some models to provide good performance for use all year round, including snowy and icy road conditions. All season tires are identified by ALL SEASON and/or M+S (Mud and Snow) on the tire sidewall. Snow tires have better snow traction than all season tires and may be more appropriate in some areas. Summer Tires HYUNDAI specifies summe..