Hyundai Elantra: Wipers and Washers / Windshield Washers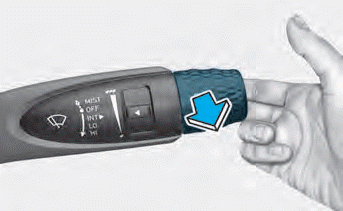 In the OFF position, pull the lever gently toward you to spray washer fluid on the windshield and to run the wipers 1-3 cycles. The spray and wiper operation will continue until you release the lever. If the washer does not work, you may need to add washer fluid to the washer fluid reservoir.
WARNING
When the outside temperature is below freezing, ALWAYS warm the windshield using the defroster to help prevent the washer fluid from freezing on the windshield and obscuring your vision which could result in an accident and serious injury or death.
NOTICE
To prevent possible damage to the washer pump, do not operate the washer when the fluid reservoir is empty.
To prevent possible damage to the wipers or windshield, do not operate the wipers when the windshield is dry.
To prevent damage to the wiper arms and other components, do not attempt to move the wipers manually.
To prevent possible damage to the wipers and washer system, use antifreezing washer fluids in the winter season or cold weather.
Operates as follows when the ignition switch is in the ON position. MIST: For a single wiping cycle, push the lever upward and release. The wipers will operate continuously if the lever is held in this position...
Type A Type B 1. Fan speed control knob 2. Temperature control knob 3. Mode selection knob 4. Front windshield defroster position 5. Rear window defroster button 6...
Other information:
Components and components location ComponentsMiddle EastConnector Pin Information No Connector A (Int AMP) Connector A (Ext AMP) Connector B 1Rear left speaker (+)--2Reart left speaker (-)-MIC Signal (+)3-AMP Navi Voice (+)-4-AMP SPDIF (HI)-5--Antenna Powr6Camera PowerCamer..
Components and components location Component Repair procedures Removal1.Disconnect the negative(-) battery terminal.2.Remove the AVN Head unit.(Refer to Body Electrical System - "AVN(Audio Video Navigation) head unit")3.Loosen the mounting screws and remove the start/stop button (A).Installation 1.Install the start/stop button.2.Install the AVN head unit.3.Connect the negative (-) batt..