Hyundai Elantra: High Beam Assist (HBA) / Function malfunction and limitations
Function malfunction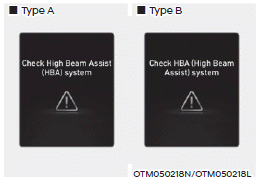 When High Beam Assist is not working properly, the 'Check High Beam Assist (HBA) system' or 'Check HBA (High Beam Assist) system' warning message will appear and warning light will illuminate on the cluster. Take your vehicle to an authorized HYUNDAI dealer and have the function checked.
Limitations of the function
High Beam Assist may not work properly in the following situations:
Light from a vehicle is not detected because of lamp damage, or because it is hidden from sight, etc.
Headlamp of a vehicle is covered with dust, snow or water.
A vehicle's headlamps are off but the fog lamps are on and etc.
There is a lamp that has a similar shape as a vehicle's lamp.
Headlamps have been damaged or not repaired properly.
Headlamps are not aimed properly.
Driving on a narrow curved road, rough road, uphill or downhill.
Vehicle in front is partially visible on a crossroad or curved road.
There is a traffic light, reflecting sign, flashing sign or mirror ahead.
There is a temporary reflector or flash ahead (construction area).
The road conditions are bad such as being wet, iced or covered with snow.
A vehicle suddenly appears from a curve.
The vehicle is tilted from a flat tire or is being towed.
Light from a vehicle is not detected because of exhaust fume, smoke, fog, snow, etc.
WARNING
At times, High Beam Assist may not work properly. It is the responsibility of the driver for safe driving practices and always check the road conditions for your safety.
When High Beam Assist does not operate normally, change the headlamp position manually between high beam and low beam.
Display and control • After selecting 'High Beam Assist' in the Settings menu, High Beam Assist will operate by following the procedure below...
WARNING Do not use the interior lights when driving in the dark. The interior lights may obscure your view and cause an accident. NOTICE Do not use the interior lights for extended periods when the vehicle is turned off or the battery will discharge...
Other information:
Navigation-based Smart Cruise Control may not operate normally under the following circumstances: The navigation is not working properly Speed limit and road information in the navigation is not updated The map information and the actual road is different because of real-time GPS data or map information error The navigation searches for a route while driving GPS signals are blocked..
1. Make sure you have the smart key in your possession. 2. Press the Door Unlock button (2) on the smart key, press the button on the front door handle or touch the door unlock sensor inside of the front door handle to unlock the doors. 3. All of the doors will unlock. When the doors unlock, the hazard warning lights will blink two times. The door handle button will only operate when t..