Hyundai Elantra: Seats & Safety System / Seats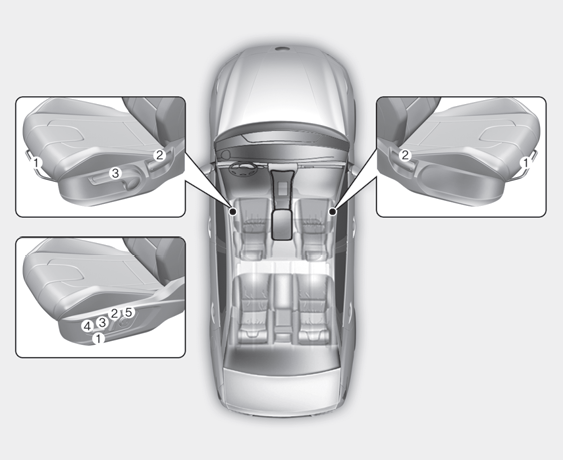 The actual layout of the vehicle may differ from the illustration.
Driver's seat
(1) Forward and rearward
(2) Seatback angle
(3) Seat cushion height
(4) Seat cushion angle
(5) Lumbar support
Front passenger's seat
(1) Forward and rearward
(2) Seatback angle
This chapter provides you with important information about how to protect yourself and your passengers. It explains how to properly use your seats and seat belts, and how your air bags work...
Adjusting the seats so that you are sitting in a safe, comfortable position plays an important role in driver and passenger safety together with the seat belts and air bags in an accident...
Other information:
To defog inside windshield 1. Select desired fan speed. 2. Select desired temperature. 3. Press the defroster button (). 4. The air-conditioning will turn on according to the detected ambient temperature, fresh mode and higher fan speed will be selected automatically...
Driver's and passenger's front air bags Your vehicle is equipped with an Advanced Supplemental Restraint System (SRS) and lap/shoulder belts at both the driver and passenger seating positions. The SRS consists of air bags which are located in the center of the steering wheel, in the driver's side lower crash pad below the steering wheel column and the passenger's side front panel ..